Wake up, enjoy your day and get the
conversation flowing!
Online and Wholesale Coffee, New Zealand
Buy online coffee & enjoy at home whenever you want a great cup

High-quality, great-tasting coffee beans roasted with care in Taupo, NZ
You deserve a great-tasting cup of coffee every single time
Life's too short to waste on a bad cup of coffee.
But how do you know what quality you're getting when you buy your coffee beans, plunger or espresso grinds?
At Sacred Grounds, we take care at every step of the process so you can wake up, enjoy your day and get the conversation flowing with a great cup of coffee, every single time.
Sacred Grounds Online Coffee
All you need for a great cup of coffee
A great coffee gets your day started right
Coffee is our heritage, our life - as sacred to us as the ground we call home.
It's not blood that runs in our veins, it's coffee.
With three generations of coffee experts in the family, we really know what it takes to make a great cup. We're as passionate about coffee as we are about the people who love to serve and drink it.
That's why we know you deserve a great cup of coffee every time. Without the frustration of opening a packet not knowing how it will taste.
Shop our award winning blends
ACACIA BAY
One of our original Sacred Grounds flavours. A mixture of tastes from Papua New Guinea and Colombia. Perfect in a plunger.
Roast level: Dark
Body: Heavy, Syrupy
After taste: Fruit Loaf
Taste notes: Apricot, Lime Acidity, Omega Plums, Maple Syrup
MAHIA
Named after Mahia beach, this coffee is one to share. Beautiful and well balanced, works perfectly in an espresso or filter coffee.

Roast level: Medium - Dark
Body: Medium
After taste: Pleasant cashews & lime
Taste Notes: Roasted Cashews, Fruit Loaf, Golden Syrup, Browned Butter
COROMANDEL
From where we grew up on the breath-taking beaches and relaxed way of life, this coffee is smooth with a volcanic punch. Great as a large milk and espresso-based coffee
Roast level: Medium
Body: Medium
After taste: Toast
Taste Notes: Scorched almonds, Nutmeg, Woodfired Raisin, Honey Aftertaste

FAIR TRADE ORGANIC
This coffee is unlike the others. An original recipe established in 2018, we take the flavours from South America and give you a Golden Bean Silver Medal winner.
Taste notes: Brazil Nut, Milk Chocolate, Soft Honey Taste
Sacred Grounds Coffee, Online and Wholesale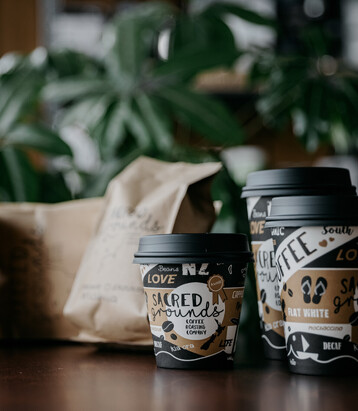 A great start to every day
There's enough uncertainty in life without taking a gamble on whether your coffee is going to taste great or not! We think that a good cup of coffee should be repeatable, every time. And you don't need to worry that you won't get a great start to every day.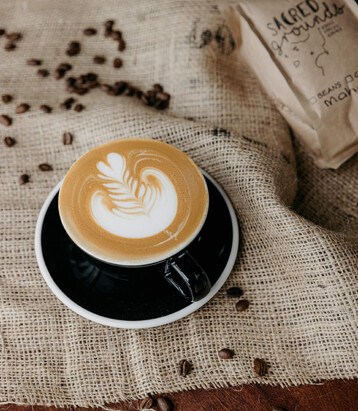 Come back for a second cup
Meeting friends and family for a coffee is how we get together, hang out and connect. We believe that conversation is enhanced by a great-tasting cup of coffee. Serving excellent coffee makes for an excellent day. So you'll always come back for another cup.
Get a great cup of coffee every time and get on and enjoy your day. Smoothly roasted at our sacred grounds in Taupo, New Zealand.
Location
44 Nukuhau Street
Taupo 3378
Hours
Monday to Friday 7:30am - 4:30pm
Saturday 10am - 3pm
To keep up to date with what we're up to at Sacred Grounds, and to see all our special offers, join our community below. We never spam, promise!