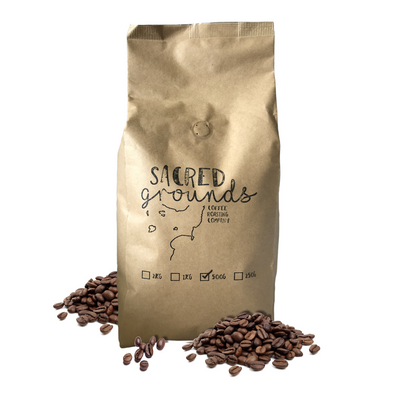 Coffee Beans
Sacred Grounds
$23.49
At Sacred Grounds, we take care at every step of the process so you can wake up, enjoy your day and get the conversation flowing with a great cup of coffee, every single time. Check out our blends below.
WHAREWAKA
Simple, and delicious. From the point that stands out on Lake Taupo, and also stands out in espresso coffee.
Taste Notes: Dark Chocolate, Almonds, Molasses.

ACACIA BAY
One of our original Sacred Grounds flavours. A mixture of tastes from Papua New Guinea and Colombia. Perfect in a plunger.
Taste Notes: Apricot, Lime Acidity, Omega Plums, Maple Syrup

COROMANDEL
From where we grew up on the breath-taking beaches and relaxed way of life, this coffee is smooth with a volcanic punch. Great as a large milk and espresso-based coffee
Taste Notes: Scorched almonds, Nutmeg, Woodfired Raisin, Honey Aftertaste

TAUHARA
Our newest addition. Named after the mountain that overlooks our town. Great in espresso coffee.

Taste Notes: Hazelnut Praline, Ripe Blackberry, Cocoa, Bakers Chocolate.
MAHIA
Named after Mahia beach, this coffee is one to share. Beautiful and well balanced, works perfectly in an espresso or filter coffee.
Taste Notes: Roasted Cashews, Fruit Loaf, Golden Syrup, Browned Butter.

FAIR-TRADE ORGANIC
This coffee is unlike the others. An original recipe established in 2018, we take the flavours from South America and give you a Golden Bean Silver Medal winner.
Taste notes: Brazil Nut, Milk Chocolate, Soft Honey Taste
SKU: 10000-1