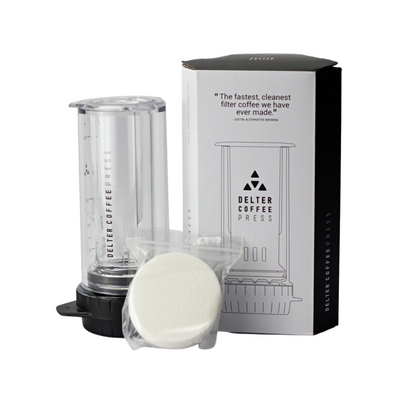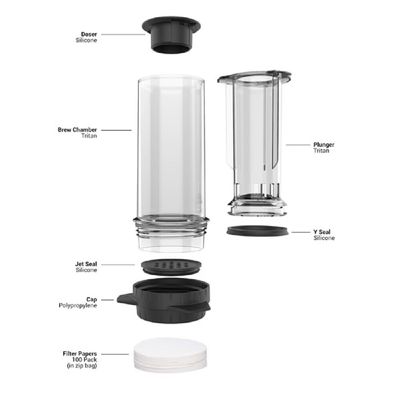 Delter coffee press 
Delter
$65.00
Manual coffee press. Features Delter's unique jet seal, eliminates bitter coffee found in other brewers.
Includes:

1 x Delter Coffee Press
100 x Paper Filters
Doser
Specifications:

Materials: Food Grade Silicone, Tritan Copolyester (BPA-Free), Polypropylene.
Brewing Capacity: 450ml Water with 28g Coffee
Brew Chamber Height 160mm
Filter Diameter 61.5mm
Brewing Guide:
Freshly roasted ground coffee and water just off the boil is required to brew with this coffee press.
Place a filter in the Delter cap and rinse with water and discard.
Add freshly ground coffee into the Delter coffee chamber (max. capacity 30g/1.1 oz).
Twist on the Delter cap.4. Flip the Delter over onto your cup and start pouring your hot water into the brew chamber, filling to the line markings.
Raise the plunger to dose the exact amount of water required for your brew.
Push down on the plunger to activate water and coffee contact.
Raise the plunger again to re-dose or refill the brew chamber for larger, double-batch servings.
Enjoy!
SKU: 10000-81